By Perry A. Farrell
SMSB Editor in Chief
Lorenzo Vitti said he's the best athlete in his family.
He may have to prove it.
The two-year Sound Mind Sound Body veteran comes from an athletic family.
His mother, Rachel, played collegiate soccer at Wake Forest. His father, Nikolia, played football at Wake Forest.
"I have to be the best athlete because I'm the product of both of them,'' said Lorenzo. "I think I got some of my mother's attributes and I got some of my father's good attributes. You put that together and you get me.
"Defensively, I'm athletic and I have pretty good ball skills as a DB. I'm lengthy and I can play both sides of the ball.''
The Class of 2022 defensive back-wide receiver at Dearborn Divine Child is 6-foot-1 and weighs 175 pounds.
After offers from Eastern Kentucky, Mid-American Conference schools, Lehigh, Yale, Dartmouth, and Army he decided to commit to the Navy.
It gives him a chance to enjoy his senior year without worrying about recruiters calling him.
"Sound Mind Sound Body has helped me play against some pretty good talent,'' said Vitti. "It has given me exposure on the national level because it has helped me play against some of the best kids in the country. I've been able to dominate at times.
"The first time we were out there we did some one-on-ones, and I was a little nervous. Once I did, I made a good play and I kept getting in and I was more comfortable. It was a matter of competing.''
Competing is the goal once he gets to the Navy.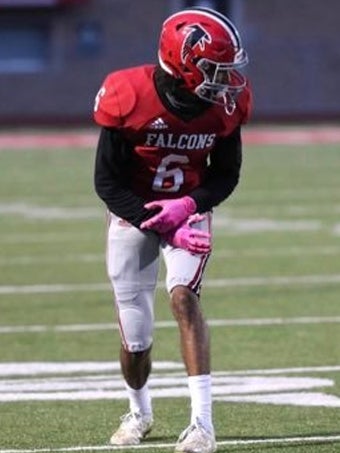 "I decided on Navy because you get the best of both worlds,'' said Vitti. "I get to graduate and have some good career options afterward. I also get to play on a national level. There aren't a lot of schools that give you that kind of opportunity. We play Notre Dame, Army, Air Force, and Pitt.
"I wanted to commit early and because it was Navy there was nothing else to consider or to wait for.
"I get to play nice and relaxed and just focus on winning. That's what it's all about at the end of the day.''
Some Week 6 Highlights! ? 3-3. Focused on making state playoffs! ⁦@GreenRB21⁩ ⁦@CoachConiglio51⁩ ⁦@AllenTrieu⁩ ⁦@CoachBlackwell_⁩ ⁦@JaredPurcellDET⁩ ⁦@MickMcCabe1⁩ ⁦@TheD_Zone⁩ ⁦@MIexposure⁩ ⁦⁦⁦@PrepRedzoneMI⁩ pic.twitter.com/ceOL3kxO5p

— Lorenzo Vitti-CB-US Naval Academy Prep School (@Lorenzocarlov) October 3, 2021